Who We Are
Almalgamated Pest Industries was purchased in April 1995 by Flick Pest Control. During 1999 we changed the name to Bambanani Pest Control. The Shareholders in this Company were nominated from Staff within our group on length of services, commitment and motivation.
Bambanani has been accredited with a level 3 (three) broad based black economic empowerment verification rating with a 110% procurement level and 51% black ownership.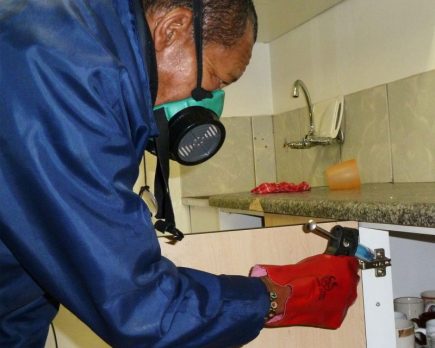 What We Do
Our service philosophy is that we believe that "Doing it right the first time" has, and will play a major role in the successful growth of our organisation and much time and effort is spent in formal and "in-house" training, to ensure that you, the Client, is given the service of the highest standard.
Bambanani provides professional top quality pest control services to the commercial, retail, industrial and domestic markets to a wide variety of pests and occasional invading insects.
All our technicians have vast experience and are further continually trained by Management as well as being registered with the Department of Agriculture.
Our Core Values
 At all times respect and uphold the dignity of people.
 To conduct business with the highest sense of ethics.
 To strive to achieve "service excellence" in our Business at all times.
We will further ensure that the following core values within our service philosophy are adhered to when conducting business with you:
 Quality of service
 Service guarantee
 Safety
 Reporting- Treatment reports issued to the client
 Correct chemical usage and application methods
 Correct Communication channels are maintained with the client
Benefits of Using Bambanani Pest Control
 Bambanani has been operating for over 15 years in South Africa
 Service support of over 10 technical teams within Gauteng
 Quick turnaround times
 We offer an Emergency service for clients with emergency related calls within 24 hours
 Custom designed services for all HACCP pre-requisite programmes
 Quarterly audits provided to key sites
 Members of the South African pest Control Association- SAPCA